Animal Cuts is the fat burner I have used the most in my "career" of testing out fat burning supplements.
It is for good reasons that Animal Cuts is my fat burner of choice – it works and I can't stop taking it!
I've decided to give a quick review and overview of the Animal Cuts product for those who are interested in fat burner supplements. This will be my honest review of the product, and I will try to give as much details about the product in the review as I can. If I left out anything in the review please leave a comment at the bottom of this page and ask any questions you have.

So what is "Animal Cuts"? Animal Cuts is a complete fat loss product from the famous Universal Nutrition team. From the side of the can that the Animal Cuts product comes in it reads "it ain't a fat burner. It ain't a thermogenic. it ain't a diuretic. Or a metabolic… It's all of these wrapped into one". That pretty much sums up what the Animal Cuts product is. They have included everything you would need to burn fat into one product. The results speak for themselves – you will get quick and solid results from the 3 week stack of Animal Cuts.
Honest Animal Cuts Evaluation

Again I wanted to stress on how I give honest reviews of supplements here at my Workout Tips blog. I've tried Animal Cuts multiple times, and am going only off the results I have received. I can't speak for the results you will see of course, but I am sure they will be somewhere along the same lines of the results I have gotten from the product.
Disclaimer – I am not a doctor 🙂
Animal Cuts Results
[highlight color="FFFF00″]My verdict – Animal Cuts is my #1 fat burner right now. I would rate it a 9.5 out of 10.[/highlight] I don't think I could ever rate a fat burner a 10/10 unless it instantly made me chiseled with no time in the gym 😉
Updated: February 21st, 2012 – The picture to the right is from my vacation I just got home from. Prior to this vacation I used a bottle of Animal Cuts. I managed to lose about 6 or 7 pounds.
Click here to purchase Animal Cuts now…
A cycle of Animal Cuts is 3 weeks long (and you are directed to take a week off if you want to go back on for another 3 weeks). Each day you will be taking 2 packs of 9 pills, for 18 pills total in a day. If you have troubles swallowing pills this may be a disadvantage for you, but I get all 9 pills down in one gulp. Because of the powerful fat loss ingredients in Animal Cuts they had to make so many pills. Do you ever wonder how some supplements have just "1 miracle pill"? So do I. Although Cuts has a lot of pills, they work. Enough said.
Every time I take Animal Cuts I lost roughly 4-5 pounds of fat in the three week period. I also lose a couple pounds of water weight as well, which makes me look even slimmer.
You have to realize that I ain't to fat to begin with, so losing 4-5 pounds of fat on me would be like losing 10-15 pounds of fat on someone who has a lot more weight to lose. The "4-5 pounds" doesn't really do justice without explaining that. If you a body fat % of higher than 16% I bet you can expect to lose around 10+ pounds of body fat + some water weight too.
Animal Cuts Update 2014
Updated: July 24th, 2014
Because this is one of my most popular posts here at Workout Tipster I wanted to give you guys an update on where I am right now and what I think of Animal Cuts now that I have a bit more experience with other supplements and fat burners.
Check out the recent "lean down" I did over a 3 month span…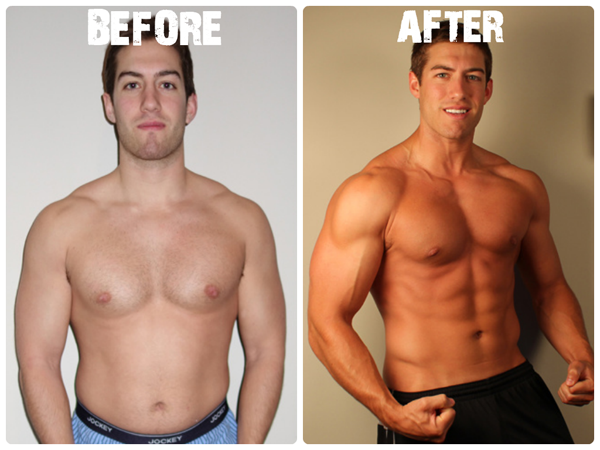 As you can see from the picture above I got a bit chubby earlier this year. I had appendix surgery and couldn't workout or do anything active for a month and ended up eating like crap because I wasn't motivated.  I got back into the gym and worked hard for three months to get maybe as lean as I've ever been.
So the big question is did I use Animal Cuts for this transformation?
Nope, I didn't use Animal Cuts this time around.  My buddy Dan Garner is a nutrition specialist, and he had me on a few supplements but didn't recommend a pre-made fat burner at all.  Instead he had me on other supplements that act as fat burners including Carnitine and a Green Tea Extract.  If you want more information on exactly the type of supplements he recommends for fat loss you can get his free 64+ tips report free here.
I still think that Animal Cuts is a good product and I am proof that it does work, but Dan has some other supplement recommendations that are working better for me right now.
Review of Animal Cuts Side Effects
Everyone is always curious about the side effects one has experienced from a supplement. Personally I haven't seen any serious side effects from my countless cycles of taking Animal Cuts, but there are a few things I should point out.
When taking Animal Cuts on an empty stomach I often feel my stomach growling and even feel a little bit of discomfort. Because of this I always take Animal Cuts within 15 minutes of a meal. I try to leave about 15 minutes between taking the Cuts package and a meal, but sometimes just end up taking the pack of pills right before the meal.
Because of the Diuretic ingredients (the stuff that takes away your water weight to make you look more cut) I have often found that drinking alcohol on Animal Cuts can give you a bigger than normal hangover. I highly suggest you stay away from alcohol when taking any supplements or fat burners, but if you do decide to drink while taking Animal Cuts I suggest doing so in moderation and drinking lots of water before, after, and even in between drinks if you can.
Overall there wasn't anything life changing I saw from Animal Cuts, and the side effects were slim to none. Just another reason I love the product!
Animal Cuts Price Review
Do yourself a HUGE favor and buy Animal Cuts online at BodyBuilding.com
Animal Cuts costs $34.99 at Bodybuilding.com vs costing up to $64 in stores where I live. That is savings of over 50% when buying Animal Cuts online!
Use the button below to visit the site and purchase it for cheap.
[buybutton style="42.png" linkingurl="http://www.workouttipster.com/go/supplements/animalcuts/" windowtype="_blank"]
I think the $32 price tag is an extremely fair price for what the product can do. Most other fat burners that give similar results cost closer to $40 from my experiences. I always ask the question when people are talking price for a supplement – would you pay $32 to lose 10 pounds of fat? Usually the answer is yes. If it is, you have solved your own problem.
Overall a great price for a great Animal Cuts product.
Click Here to purchase Animal Cuts Online….
I hope you enjoyed my review of Animal Cuts – leave comments below if you have questions or your own review!