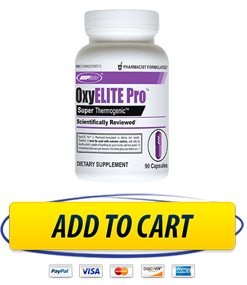 OxyElite Pro is a supplement I took about 4-5 months ago for fat loss and I wanted to give you a quick review of it in case you are interested in purchasing a fat loss supplement.
In the last year and a half I've gone through 3 bottles of OxyElite Pro and would rate it in my top two favorite fat loss supplements.
So what exactly is OxyElite Pro? it is a "Super Thermogenic" fat loss product created by the reputable USPLabs supplement company. It contains a special proprietary blend along with caffeine to boost your fat loss. One bottle contains 30 days worth of OxyElite Pro if you are using the max dose. it was pharmacist formulated and is a fairly strong product that delivers fast results.

Honest OxyElite Pro Review
I wanted to let you know that I only give honest reviews of supplements here at my blog. Every supplement I blog about I've taken myself, and can give you a review of my actual results. I've seen some websites that give reviews of hundreds of supplements, but haven't actually used the supplements themselves… not a very good review to go by. I've taken OxyElite Pro for my personal fat loss for 3 months total (not 3 months straight though).
[highlight color="FFFF00″]My verdict – OxyElite Pro is a SERIOUS player in the Fat Loss supplement category, and I would rate it 9/10.[/highlight]
I don't have exact numbers recorded that I can find, but I know I lost between 4-6 pounds of fat each 30 days I took OxyElite Pro. The first time I took it I was actually fairly lean and just looking to cut a few pounds before vacation and I only dropped about 4 pounds. The other two times I took OxyElite Pro I dropped a nice 5-6 pounds of pure fat. Feels nice to see your money go to work!
When I say I lost 4-6 pounds of fat it is actually better than it sounds. When I took the supplement I always had a relatively low body fat %, so there wasn't much to lose (just those last few pounds of fat). If I had a higher body fat % I would guess I could have lost 10-15 pounds of fat in a 30 day period using OxyElite Pro.
Review of OxyElite Pro Side Effects
You may feel the supplement working because of the Caffeine in it. I felt like I was getting hot and would sweat more during my workouts when taking OxyElite Pro, but it didn't bother me at all knowing I was burning fat. Overall it is a great fat loss supplement.
I should also point out that you are directed to consult with a physician before beginning OxyElite Pro (every supplement directs you to do so).
OxyElite pro has a bunch of warnings on the back that is important to read before you purchase. You must be a healthy adult (over 18 years old), and you must cut out all other sources of caffeine from your diet, as well as alcohol. Just check the label to make sure the supplement is right for you to use.
OxyElite Pro Price Review
Save yourself some money and purchase it online at Bodybuilding.com for $39 (compared to $60 in stores). I don't know about you but I like saving $21 and purchasing from the comfort of my own home.
To me $39 is a very fair price for OxyElite Pro, but it depends on how much money you are looking to spend. Think of it this way – would you spend $39 to lose a 10 pounds of your fat? I should note you will need to eat properly of course and work hard at the gym, but this product will give you that boost. For what it does I think it is worth the money – but it isn't 100% necessary for your fat loss goals, so make the decision based on your budget.
If you want the fat loss boost click here to buy OxyElite Pro cheap online.
I hope you enjoyed my OxyElite Pro supplement review – good luck with your weight loss goals and if you have any comments or questions please leave them below.
[buybutton style="42.png" linkingurl="http://www.workouttipster.com/go/supplements/oxyelitepro/" windowtype="_blank"]