Today I created the best morning energy drink in the world (in my opinion). I don't know why I didn't think about it sooner.
Every morning I usually take my one scoop of Greens and one scoop of PhytoBerry with my breakfast. The Greens work wonders for the body and the benefits include: restores healthy pH levels in the body, supports liver function, balanced blood sugar, stimulates brain function, boosts metabolism, and more. The PhytoBerry is a powerful antioxidant blend and some benefits include: boosting energy levels, promotes mental clarity, supports cardiovascular health, and many more including similar benefits as the green products.

If I could pick only two supplements to take I would probably choose these two, as they are extremely valuable to your health for a number of reasons.
Although these two products themselves do give me a nice boost in energy throughout the entire day, they don't give you that instant kick you sometimes look for in the morning. Today I didn't get as good as a sleep as I would have liked to and had a meeting to go to so I decided to create my own energy drink.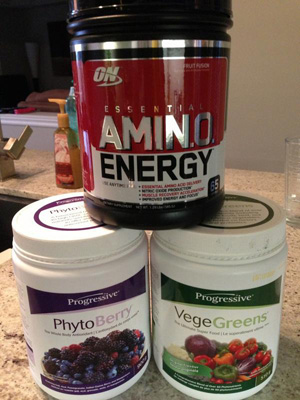 I added one scoop of Amino Energy to my normal morning drink and right then and there I created the ultimate morning energy drink!
Not only does this allow your body to get some important amino acids in the morning upon waking, but you are also getting a nice wake me kick from the caffeine energy blend.
Depending on any other supplements you are taking you could even add a couple more scoops of Amino Energy to the drink. I personally workout in the late morning or early afternoons and take a pre workout supplement so I can't consume too much caffeine in the morning. I found one scoop was perfect for me and the blend got me off to a great start to the day.
The best thing about it all? It tastes amazing. I have the fruit punch amino energy, and it was the perfect mix to taste almost like a great tasting fruit juice you would buy for your kids.
If you are not a morning person (which I'm not) I highly recommend you give this a shot. I would recommend it over coffee or tea for sure, and you are getting a ton of healthy ingredients that will keep you feeling healthy, awake, alive, and fresh all day long.
If you try it out let me know in the comments below how you liked it!