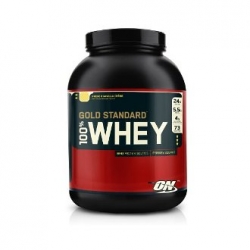 Today I won't be providing any type of information in my blog post (besides my personal workout journal stuff), but instead I am going to be asking you readers a question.
The question is: What is the best TASTING protein powder you've ever had?
The nutritional value doesn't matter for this question, I'm just looking for the absolute best tasting protein powder out there.
I would love if you visited my Workout Tips Facebook page and answered the question on the status I have there (you should see it at the top) or if you can't find that then you can post your favorite tasting protein powder below in the comments.

Personally for me I think the best protein powder I've ever tried was MyoFusion Vanilla. Everyone has different tastes they like, but for some reason this vanilla flavor just hit the spot for me with only water (and optional ice).
With that said I also haven't tried a lot of different protein powders over recent years. I've tried to stick to only the best quality and nutritional value protein powders, and that might eliminate some of the best tasting powders that have a little more sugar than I like to have.
I'm trying to look for the best tasting protein powder for a recommendation (as long as it somewhat quality and doesn't have too much sugar) to beginners who don't drink protein shakes because they can't handle the taste of them. A good tasting protein shake might get those people into the routine of drinking one or two protein shakes a day, and they should see the results that follow. Protein is essential for weight loss (and muscle building) but most people beginning to workout and eat healthy don't get enough of it, so protein powders are a great way to start bumping up the protein intake.
Anyways I would really appreciate if you can put your two cents in at the Facebook page or in the comments below!
Update: I had a number of people give their opinion on the best tasting protein on Facebook and I will list them below…
Isopure, orange pineapple banana

Six star whey protein chocolate
Arbonne chocolate protein powder
Isagenix
Body Fortress Super Advanced Whey Protein Vanilla
Gnc extreme whey
bodybuilding.com brand of chocolate.
body fortress cookies and cream
Optimum Gold standard whey chocolate mint
Myofusion Probiotic Series (Vanilla)
Chocolate Shakeology
Two Great Workouts
The past two days have been two more great days and this is the best week I've had in a long time as far as my eating and workouts go.
Yesterday I continued to eat very healthy, and even grilled up some salmon for dinner (which is rare because my girlfriend doesn't like seafood). Salmon is a great protein source, and I had a nice big piece of it with some grilled peppers and asparagus. I'm going to start eating Salmon once a week from the grill as it is one of my favorite healthy meals to make.
I went grocery shopping last night and stocked up on some more healthy food to keep me going for the next few days. The weekends include some cheat meals for me, so this weekend it is going to be "healthy hamburgers" tonight (homemade with some healthy ingredients and whole wheat thin buns. Tomorrow it will be "healthy pizza" with some feta cheese, spinach and chicken.
My workout yesterday was a lower body and core workout, with the 10 sets and 60 second rest that I've talked about in previous posts. I started off with 10 sets of dumbbell deadlifts and followed that up with 3 sets of split leg (back leg on bench) squats. That was a deadly combination so I went to my calf raises next to give my legs a little bit of a rest. I then finished my legs off with 5 sets of hamstring curls. I was going to do stiff leg deadlifts after the curls but my hamstrings weren't toast so I called it after 21 sets of leg exercises. I went upstairs and did three core exercises and finished off with a nice stretch.
Today I had my usual eggs and turkey bacon for breakfast and hit the gym for a back and shoulder hypertrophy/strength day. This consisted of pull ups, 1 arm cable rows, standing dumbbell shoulder presses, lateral raises, bent over raises, and finished off with front plate raises (45 lb plate). I then went upstairs and ran a mile trying for speed, with a 1 minute walk break in between. With a warm up, the 1 minute break, and a cool down it took me 10:00, so overall it was a decently fast mile for my first time on the treadmill in ages. I went for a quick stretch and came home to the computer where I am now.
I've got a semi cheat meal coming up this afternoon which I will pair with playoff football for a solid day. Have a good weekend!