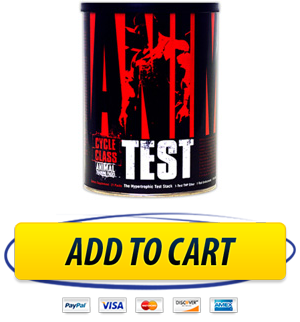 One of my favorite supplements for adding a couple pounds of lean muscle quick is Animal Test by Universal Nutrition.
I think I've gone through about 4 "cans" of Animal Test and every time I've seen strength gains almost instantly, and have added about 5 pounds of lean muscle mass in the 21 day period.
What is Animal Test? It is a "pro-testosterone" supplement, and is supposed to be the strongest on the market.
Honest Animal Test Review
For those of you new to my blog, I only ever do honest reviews of supplements. I test a ton of different supplements year round and have a good idea of what other products in the same category are like. I've taken a few other testosterone boosters (including two another Universal Nutrition products called Animal Stak and Animal M-Stak).

Animal Test was definitely the best testosterone booster I've taken. Test boosters are a hard product to gauge how well they are working, because the affects aren't instant like they may be with a pre workout supplement such as SuperPump Max. With that said I could definitely feel the Animal Test kick in after about just 2 workouts.
My muscle felt "fuller" during my workouts, and even just throughout the day (pumps lasted longer too). My strength shot up pretty noticeable after just a couple days too. In about the first week I gained around 3 pounds every time I took Animal Test, and then the last 2 weeks I would gain another 2 or 3 pounds of lean muscle.
[highlight color="FFFF00″]In my overall review of Animal Test I would give it 4.5/5 – I love it and will continue to use it when I am looking to pack on muscle.[/highlight]
Click here to buy Animal Test online cheap
Side Effects Review For Animal Test
I am not too sure, but I am pretty sure my hair was growing quicker (and nails too) while taking Animal Test. Maybe it was just in my mind, but either way I think it is pretty common with test boosters and it wasn't a negative side effect. One thing I did notice was I was a little bit "moodier" than normal sometimes. Aggression might have been up a bit, but it wasn't a problem at all. Again some of these things might just be in my head after starting Animal Test – I don't know.
Side Effects Review gets a 4/5 – Nothing really negative to report on.
[signs style="16.png"]
Animal Test Review of Price
It is a must that you buy this online at somewhere trusted like Bodybuilding.com which offers almost 50% off what Animal Test costs in stores.
Priced at over $120 in some stores, it is currently listed at $64.49 online at Bodybuilding.com!
This is a fair price for the work it does, but if you are really short on cash it isn't the best choice for you.
Click on the button below to save yourself 50%…
[arrow style="4.png" alignment="center"]
[buybutton style="42.png" linkingurl="http://www.workouttipster.com/go/supplements/animaltest/" windowtype="_blank"]
Animal Test Price Review gets a 3/5 – Pretty pricey, but it is a good supplement.
All in all great test booster and if you want to add muscle quick I would try it out… click here to buy Animal Test for cheap.
Disclaimer: I am not a doctor. 😛
[autoresponder]