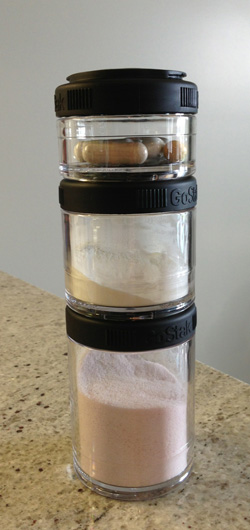 I recently posted about how I thought Blender Bottle was the best supplement shaker cup out there. If you haven't read that article I recommend you check it out. Today I'm going to be taking a look at "GoStak" which is another great product by Blender Bottle for workout enthusiasts.
The GoStak product is a portable nutrition holder. Each GoStak comes with 4 different size jars that will stack on top of each other making them very portable. They can be used to store a number of different food items or supplements from protein powders, pre workout supplements, supplement pills, snacks (nuts), vegetables, fruits, etc. The possibilities are really endless.

In the picture on the left here you will see that I used 3 of the 4 jars to pack my post workout supplement, pre workout supplement, and my multi vitamins.
For those who are on the go (working, driving around, etc) the GoStak product is perfect. What I used to have to do is fill three different bottles with my different powder supplements and then bring my multi vitamin pack along as well. Not only did it take up much more room, but it was also an inconvenient. The GoStak allowed me to start putting those powders in each container, and then bring just the GoStak and one Blender Bottle on the road with me. The GoStak will even fit inside your Blender Bottle to make it that much more convenient.
The jars have an easy "twist n' lock" system on them that allows them to stack on top of each other and lock into place. This is really simple to use and makes them very portable. If you have a lot of different supplements, pills, or snacks you want to lug around with you on days you are out of the house I would recommend buying 2 or 3 of them (they are a great price) so you have multiples of each size to fit your needs for the day.
They are both dishwasher and freezer safe which is great. Overall the GoStak jars are just a very handy product to have if you are someone who visits the gym regularly and uses nutritional supplements and/or wants to pack healthy snacks. I highly recommend you check them out at the Blender Bottle website.