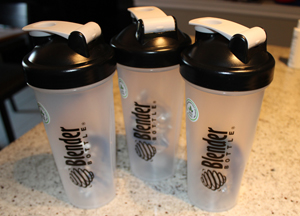 This post is going to be quick, but I just wanted to give my opinion on the best supplement shaker cup or bottle out there. I've gone through dozens of supplement shaker cups over the years and have had some really poor quality products and some others that have been solid and lasted quite a while.
About a year ago I came across my absolute favorite supplement shaker bottle because of its high quality. The best supplement bottle in my opinion is the Blender Bottle, which can be seen in the picture on left side.
In the past I've had shaker cups that leak, get really warped in the dishwasher after just one or two washes, or just really start to stink after being used a few times.

In my year or so of using the Blender Bottle as my supplement shaker cup I have almost no problems. I've bought about 10 for me and my girlfriend to use, as I am usually using about 4 or 5 per day with my protein shakes, pre workout shake, intra-workout supplement, and post workout shake.
In the time I've had them I've had one lid crack (not sure how it cracked – I probably dropped it though) and one bottle get a little discolored as I left a Greens supplement in it too long I think and it must have stained it. Other than that I have no problems and am very pleased with their durability. They are top dishwasher safe and I've put them on the top rack a few times with no problems in warping.
The concept for the Blender Bottle is quite simple. It is a bottle with a screw-on lid that has a flip cap that you open when you want to drink from it. The lid itself is leak proof and the flip cap has been designed so it doesn't close on your nose while drinking. Instead of a strainer type insertion for the shaker cup they used a patented "BlenderBall" which is basically a small wire ball that acts like a whisk. Add water and your supplement and shake hard for a few seconds and you've got your shake all ready to drink.
If you check out the BlenderBottle website you will see some other versions of the product that I haven't tried out yet, but I'm sure are high quality as well. Something that my girlfriend likes is that they have a variety of colors so she can have her pink, purple and lime green bottle for the gym – I don't know maybe she likes matching it with her workout clothes :P.
Anyways I've had a lot of problems with leaking shaker cups in the past and just wanted to give my recommendations on the best supplement shaker cup or bottle out there. Give it a try and let me know how you like it.