This morning I'm going to do a quick review of Cellucor's Nitric Oxide "Pump Amplifier" product, NO3 Chrome. I am just finishing up a bottle of this supplement and I have a good idea of how well it worked (for me at least) which I will get to below.
Cellucor created this NO3 Chrome product as a pre workout supplement that doesn't contain stimulants or creatine. Almost every pre workout on the market is made with caffeine or other stimulants, and a large percentage of them have creatine in them as well. Because Cellucor knows that a lot of bodybuilders, athletes and other people who train like to take time off of using stimulants such as caffeine and/or creatine they've created this product that fills a hole in the supplement industry.

NO3 Chrome contains L-Arginine Nitrate, an "Extreme Vascularity Complex that contains L-Citrulline, Malate, Grape Seed extract and Pycnogenol. There is also 100mg of L-Norvaline in one serving size.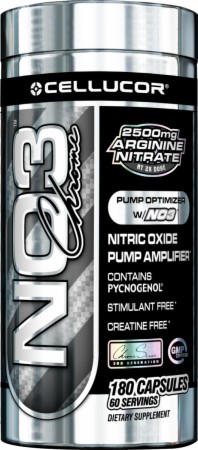 One serving size of NO3 Chrome is 3 capsules, which gives you 30 servings in the 90 capsule bottle. There is a chart on the back that goes by bodyweight and allows people over 201 pounds to take up to 6 capsules if they choose to. If you were maxing out at 6 capsules this product would last you 15 servings. Even though I weight right around the 200 pound mark I felt that 3-4 capsules was the perfect amount for me.
So How Well Did NO3 Chrome Work?
Overall I rate it a 9.5 out of 10.
I bought this supplement to run along side my Amino Energy pre workout supplement. The Amino Energy is mostly a caffeine + amino acid mix for pre workout. I wanted to stick to a nice clean pre workout supplement that didn't have many other ingredients for a solid energy boost, and then decided I would find a "pump" supplement to take care of the Nitric Oxide effect that helps open up the blood vessels and deliver nutrients to my muscles.
Overall I was very impressed by the amount of pumps I had in the gym during and after my workouts. I had run Amino Energy by itself so I knew what I felt and looked like without NO3 Chrome, and there was a big difference when taking the 3 or 4 pills. Within just an exercise or two at the gym my vascularity was already much better than normal, and I got that pump feeling early on in the workouts.
The great thing about this pump product is that NO3 Chrome gave me a pump that lasted for hours after my workout. If you are one that enjoys the muscle pump you are going to love this supplement. My muscles feel full and harder than normal for hours after my workouts.
There are no side effects or down sides to NO3 Chrome that I can think of at all. The pills are reasonable size and easy to swallow. I had no problem with the pills sitting in my stomach like supplements do. Just make sure you time it out so you can take it about an hour before training on an empty stomach and you should be good.
Some more pro's for NO3 Chrome include that you can take it close to bed time if you are training at night. This is a huge plus for those of you who either enjoy or need to workout late at night close to bed time but like using pre workout supplements. You can also use this along side other supplements pre workout.
Although I wish it was a few dollars less expensive, NO3 Chrome is a very high quality pump supplement that I recommend to anyone who asks. I hope this review was helpful in helping your decision. You can buy it at BodyBuilding.com for the cheapest price.