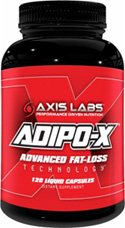 I finished my bottle of the Adipo-X fat burner supplement a couple months ago, and thought I would give you my thoughts on the product in a review here at the Workout Tipster blog.
I've tried about a dozen different fat burners now so I have a good idea of how quality a fat burner is after running it for a few weeks. My favorite fat burner is still Animal Cuts, so I usually compare all products to it. With that said, everybody is different so your body may respond better to a different supplement than mine does.
Overall I rate Adipo-X a 9/10.

What is Adipo-X?
The fat burner is designed to maintain lean body mass while burning fat, control appetite and prevent over eating, boost energy (thermogenic), utilize stored fat as an energy source, and more. It contains a proprietary blend that includes Caffeine Anhydrous, L-Tyrosine, Raspberry Ketones, Ginger Root Extract, Coleus Forskohli, amongst other ingredients. They have carefully selected ingredients that will provide your body with a solid fat burning environment.
How effective is it?
If you take the max dose recommended Adipo-X lasts 20 days. Because I started with just one capsule like recommended and slowly worked my way up I ended up getting closer to a full month from the product. During that time I ended up seeing noticeable fat loss, and I was very lean by the time I finished with Adipo-X. I did notice the caffeine (increased energy) a little bit, but the great this about this fat burner is that I didn't have the jittery feeling you sometimes will experience from fat loss products.
I also didn't have any problems with the supplement sitting in my stomach like I have with others (including my favorite – Animal Cuts). Just make sure you are drinking lots of water while taking Adipo-X. I noticed my appetite was under control and I didn't get as many cravings as I usually do, which is a BIG plus for me because if I'm not thinking about eating unhealthy I usually make good decisions in the kitchen. Another positive is that I didn't "crash" on this supplement. Although it got my energy levels up throughout the day (and metabolism along with it) I never had a caffeine crash.
For review purposes I give the effectiveness a 9/10.
Is it worth the price?
At just $30 online at BodyBuilding.com Adipo-X is definitely worth the price. Some fat loss supplements run upwards to $60 for the same month's supply. This is a top notch supplement that works great and didn't give me any negative side effects and isn't hard on the bank account at just $1 per day roughly. They have given it a very fair price, and that $30 price range is where fat loss supplements should be.