This is an honest review of the 5 Week Makover women's fat loss product for anyone who is thinking about purchasing it.
I seriously think that any women looking to lose weight should purchase the program and give it a shot. The great thing about 5 Week Makeover is that it comes with a full 100% guarantee. If you don't lose weight, or just don't like the workouts, diet, or any aspect of the program you can email for your money back.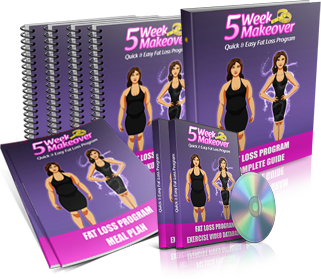 If I were to compare this with other online products out there I would have to give it a pretty high rating, as I think 5 Week Makeover goes in more depth than a lot of the other programs, and is easier to follow for women.

A lot of fat loss products are aimed towards both men and women, but this program is specifically made for women. Everything is directly related to women, including the workouts, diet, and motivation part of the program.
So what will you get when you sign up for 5 Week Makeover?
5 Week Makeover Guide – this is a full guide with intro to the diet, workouts, and the mental side of losing weight
Fat Melting Meal Plan – tells you what you can eat, what you can't eat, and example meals
5 Week Makeover Gym Workout – workouts to perform in the gym, including a schedule when to perform the workouts
5 Week Makeover Home Workout – workouts to perform at home using your bodyweight and a swiss ball
Fat Burning Exercise Video Vault – complete videos of every single exercise you will be performing in the workouts
Quick Fat Loss Checklist – getting you prepared for the weight loss journey
Printable Workout, Meal and Progress Logs – track your performance
Slim Smoothie Recipe Guide – 10 protein shakes for normal diet days and your cheat days
For completeness I'd give it 5 stars on this review. It has pretty much everything you need to get started and understand how to lose fat very quickly.
Price Review
A very generous price point at $47. One month for a gym membership is going to cost most people around $40 (and you usually get locked into a contract too). A personal trainer cost you about the $47 price PER WORKOUT. The 5 Week Makeover is like having your own personal trainer AND nutritionist (which would be another $500-$1000). A lot of other online programs, which don't match up to 5 Week Makeover run at around $67, so in this 5 Week Makeover review of the price I would give them 4.5 stars.
Customer Support Review
Emails will be answered within 24 hours almost always, and usually a lot quicker. Sometimes your questions will literally be answered within a minute (if a support member is online – which is a good chunk of the day). Top notch in this category too!
Overall Review – 4.5 out of 5 stars!
If you are a women looking to get rid of body fat and quick you need to try out 5 Week Makeover. Of course I'm biased, but it seriously is an amazing program that will get rid of any "stubborn" body fat in less than a month (and full results in 5 weeks). Try it and I know you will love it a lose all of the fat you are trying to lose… if you don't you can always get your money back.