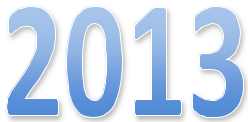 The 2012 year is now finished and it was a great year for me personally. I step into 2013 looking to have another great year, and in this post I am going to lay out some of my 2013 fitness goals.
I posted on the Workout Tipster Facebook page asking if people were setting fitness goals for this upcoming year, and I wasn't surprised to see a lot of people say that they were. Fitness related goals are one of the most popular New Years Resolutions that people set, whether it be to lose weight, stay fit, eat better, or just be healthy in general.

I've got a few general goals for 2013 that I will go over below, and I will also recap my December goals and set some new workout goals for January.
2013 Workout Related Goals
Stay Lean (200 lbs or less) – Throughout the year I want to ensure that I am staying lean (which is about weighing 195 for me personally).
Workout 5-6 times per week – This is often a goal I set monthly as well. Throughout the year I want to be working out about 5 or 6 days of the week. Exceptions are made for major holidays and vacations, and my body will welcome the odd week or half week off.
Try New Workout Programs – My body is getting used to me performing similar workouts and workout splits that I stuck to in 2012, so in the new year I want to mix it up and try out a few new workout programs that will force me to change things up.
Eat Clean and Try New Foods – I want to try and eat healthy 90% of the time in 2013. If you've visited my site before you probably know that I am believer in eating healthy a majority of the time, but also giving yourself small cheat meals or cheat days to satisfy any cravings and kick start your metabolism. I will continue this into 2013, and in order to make sure I continue to eat healthy I want to try some new healthy foods and learn some new recipes so I don't get bored or eating the same stuff week in and week out.
Blog Here Often – Blogging here helps keep me on track, and I want to start blogging more, even if I don't have any really important message I want to write about. In 2013 you will probably see more personal blog posts about just how my training is going and that kind of stuff. I also hope to start getting more people commenting on my posts that I write – which helps me see that people are actually reading the posts and enjoying them. So if you're reading this… please comment!
Record Meals and Workouts – A big part of success is tracking what you eat and your workouts. I didn't do a good job tracking what I ate in 2012, so I want to make sure I improve on that. I find it a big help for staying honest when you actually right everything down.
That's it for my 2013 goals. If you have your own goals leave them in the comments below, and we will re-visit this post at the end of the year!
December Workout Goals Recap
At the start of December I posted my goals for the month, and this is just a quick recap of how they went.
My first goal was to workout 6 days per week until December 21st (because of holidays). I would have to go back and check to see if I got there, but I'm pretty sure I did or at least was very close to going 6 days per week for the first few weeks. I also made it to the gym about 4 times per week during the holidays, so I hit this goal.
I got started with a few cardio workouts, but I didn't hit my goal of 6 cardio workouts. One main reason for this is that I started playing basketball indoors with friends, so I treated that as my cardio workout (we play hard and it is a great workout). I didn't want to do cardio and show up to play basketball tired. I also played hockey and football a lot in December, so overall this goal was a success.
I didn't find a new workout program in December, and am OK with that because it would have been interrupted by the holidays. I am going to do this in January and I'll talk about that in the goals for the month.
My eating was fine throughout the month, except for the holidays as expected. I said I was going to give myself two cheat days per week over the holidays, but it definitely was more than that. I'm a little disappointed I couldn't stick to my plan, but at least I got to the gym enough to help burn off the calories.
I did a fast for 2 Monday's of December.
My other goals included dropping to 195, but I didn't get there (my last weight in was 201).
Overall a good month but got a little sidetracked during the holidays as expected.
January Fitness Goals
I'm going to keep this short as this post is already getting long, but here are my goals for the upcoming month. This is going to be a big month, as I plan on getting in good shape for my vacation upcoming in February.
6 workouts per week throughout the month. This is pretty straight forward. I want to make it to the gym (or at least to some kind of workout) 6 days of every week and then rest one day.
Eat clean 6 days of the week and have one cheat meal. To do this I"m going to plan on going grocery shopping every Monday and Friday.
Find a workout program that I can stick to that focuses on burning fat.
Do a fast each Monday of the week. And only drink alcohol three times max throughout the month (and make sure it isn't binge drinking which usually will affect the body for a few days).
Record all of my meals, and workouts. And at the end of month weigh 195.
That is it for January. I hope to be posting here quite a bit throughout the month. Leave a comment if you are reading these posts, and if you have any questions or suggestions for upcoming posts. Also feel free to post your own goals here in the comments below!