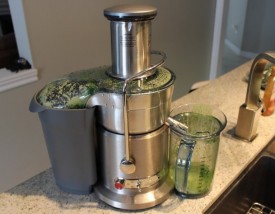 I haven't really given many updates here on my workouts since before leaving for my trip, but I've got a bit to write about tonight.
Last night I decided to order a Juicer and a Slow Cooker to help me with my healthy eating. After ordering it at 5 PM last night and choosing 2 day delivery I was expecting them to arrive Friday, but they both were on my doorstep when I got home from the gym around 11:30 am this morning – Kudos Amazon!
After my haircut today I went right to the grocery store to get some fruits and vegetables for the juicer and some chicken thighs to test out the slow cooker.

I ended up stocking up on a bunch of different veggies and fruits so I can try some different recipes from the booklet that came with it and some that I found online.
My first test of the Juicer was the following recipe: Celery, Cucumber, Chard Leaf, Spinach, Kale, Lemon and Apple. I was supposed to add ginger, but I forgot to get that at the grocery store. Like I put on my Workout Tipster Facebook Page I give the taste of that a 5/10 but the healthiness is definitely a 10/10. If you can drink one of those shakes each morning you will be doing your body a huge favor. With the ginger the taste would probably be much better , and I was also told that red grapes would make it taste better too.
I wanted to test out the new Juicer some more so I cleaned it and then threw in Granny Smith Apples, Carrots, and Celery. This juice came out orange and I wasn't sure how it was going to taste. It was actually very good and pretty much just tasted like Apple Juice. I would give that taste an 8/10 although it isn't as nutritious as the first shake.
I was really impressed by how the machine worked and I'm excited to try and get in a nice healthy juice daily or at least every other day. I also want to experiment with some juicing fasting, where I will only be drinking some of those really healthy juices throughout the day (maybe for multiple days).
In between making those two juices I threw tonight's later dinner into my new Slow Cooker. I put in some boneless and skinless Chicken Thighs with some different spices, salt and pepper, and a full beer. I set it on low for 5.5 hours and it has about 2 hours left right now. The smell in my kitchen is amazing and I have a feeling it's going to be delicious.
I'm always trying to learn new things in the kitchen and I thought a slow cooker would be great for a change in pace maybe one night a week. There are a lot of recipes that aren't too healthy but aren't too bad either that look delicious. Those will make for good semi-healthy "cheat meals" on weekends. For example pulled pork on a bun is high on my list to make.
I will do a full review of both products I bought here at the blog, but if you're interested in buying either of them (recommended) you can get them much cheaper online at Amazon. Here are the links to each product – Breville 800JEXL Juice Fountain Elite and Cuisinart PSC-350 Slow Cooker.
Workout Update:
So as I said at the top of this post, I haven't really been updating my workouts here as much as I wanted to. This week has been my first week that I've been in full swing and my workouts have been good since coming back from my trip. I only have a few weeks until I go on vacation again, so I'm trying to workout hard again.
So far I've gone through my three workout splits this week with a strength/hypertrophy type workout, and then today was my first "10 set" workout. If you haven't been following my blog the 10 set workout is where I do 10 sets of 10 reps of a big exercise and each week my rest time decreases. I started with 50 seconds today and it will go down by 10 seconds each week.
Overall a few good workouts to start the week and I've got two more Friday and Saturday. I want to try and get in a cardio workout both days if I can.
My eating has been pretty good, but still not as clean as I want. Anyways I'll try to get another update tomorrow or Saturday. Check out the links above for the Juicer and Slow Cooker if you're trying to eat healthy. Have a good rest of the week!