Me and the girlfriend just got back from our vacation to the Mayan Riveria, Mexico. We stayed at a beautiful resort and it was a lot of fun. The weather was very nice for most of the days there, and it was VERY nice getting away from the snow and cold here in Canada. Below is a picture of me and her on the beach.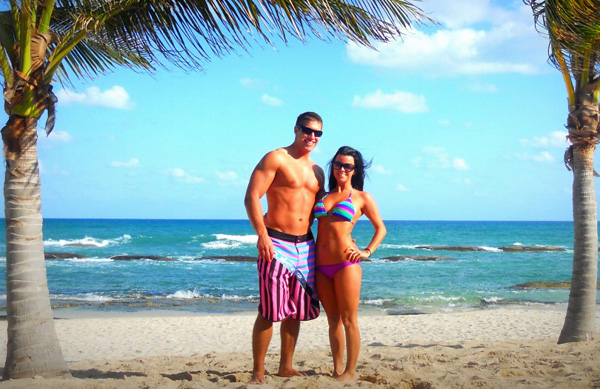 Anyways I have decided to write up a little post about Vacation Workout Tips. I know from experiences a lot of times when travelling there either isn't a gym to get a workout in, or the gym will have like one universal machine and one bike or treadmill.

My vacation workout tips is fairly simple – don't workout at all.
Your body needs rest, and if you're anything like me you sometimes forget that. Every couple months you should take a week off almost completely from working out. Hard workouts are very taxing on you CNS (central nervous system) and your body needs a break every so often to "re-charge".
What better time to take that week of working out on your vacation. Relax, that is the purpose of a vacation.
If you're like me you will probably want to look good if your vacation includes a beach or a pool and you will be busting your balls for the few weeks prior to vacation. Schedule your workouts so that you can workout for 2 months straight leading up to your vacation, and then take the time off while you are enjoying your vacation and you can look good and feel confident without any worries about losing those gains.
Be active whenever you can – playing beach volley ball or any other sports, riding a bike, hiking, walks, etc. But just stay away from heavy weight lifting and enjoy your time away!
Exception to my vacation workout tips:
1) You are single and going away with plans of getting laid 🙂 – In this case you might want to get that extra pump before hitting the beach or pool or whatever. Go ahead and do some sort of workout. Girls probably won't notice much but it will help your self confidence.
2) Your vacation is longer than a week – If you are on an extended vacation you may want to take a week off completely relaxing and then schedule in some workouts after that. Or you can simply fit in some workouts throughout the entire vacation, but take more days off than normal.
If you do need to workout but don't have the weight lifting equipment needed to do so here are my tips: bring an exercise band which can be used for shoulder workouts (and other body parts, but shoulders are my favorite for band workouts), load up your suitcase nice and heavy and do some "suitcase curls", "suitcase lat raises", etc, and do circuits of body weight exercises (planks, push up variations, dips on a chair or bench, etc).
Nutrition on Vacation – I could probably make a whole post about Vacation Nutrition, but it something that kind of sucks. If you are going to a resort you are going to have to find ways to eat healthy. Again your on vacation so enjoy some cheat meals, but try to eat healthy 50% of the time at least. Eat as much fruits and vegetables as you can, even ask for more servings when necessary. Eating bad for your entire vacation won't only affect you for the week your away, but also when you get home (I know from experience).
That's all for my vacation workout tips, enjoy your vacation!