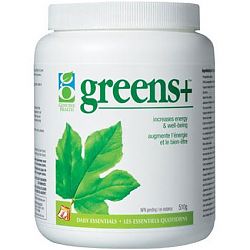 Today I'm going to do a review on two different "greens" supplement products. I will take a look at both products, review them, and let you know why I highly recommend either product.
The two greens products I've used recently are Progressive's "VegeGreens" and Genuine Health's "Greens+".
If you are not currently taking a Greens supplement you need to start right away. A Greens supplement would be the first thing I recommend along with a multi-vitamin product.
What are Greens supplements good for?
Greens supplements provide you with about 6-8 servings of fresh vegetables and a ton of great nutrients that are great for the body. Taking the supplement with help with your energy levels and over-all well being, increase your bodies alkalinity, balance blood sugar, support your liver function, improve your digestive function, detoxify the body, and even cleanse the colon.

Probably 95% of people don't get the nutrients they need by only what they eat daily, and by taking a Greens supplement you can get those nutrients that will help you lead a healthy lifestyle.
Whether you are trying to lose fat, gain muscle, or just stay overall in shape and healthy I recommend you are supplementing a Greens product.
How often should I take my Greens+ or VegeGreens?
You'll see on the label that you only need to take greens supplements once a day. I like to drink mine in the morning with breakfast, but I've also heard that it would be beneficial to take it right after a workout with your post workout meal or shake.
Which brand of Greens do you like better?
After trying both VegeGreens and Greens+ I prefer VegeGreens for the ingredients, but Greens+ for the taste. Greens+ comes in different flavors, while VegeGreens is just the one flavor. If you really are picky with taste I would suggest you buy Greens+, but if you aren't too picky and you just want the best supplement I would buy VegeGreens. Both are great products though!
What can you mix the Greens supplements with?
I prefer just mixing them with water, although both suggest you can mix with a fruit juice if you like. In order to stay healthy make sure you choose a natural fruit juice with no sugar or preservatives added.
Overall Review:
VegeGreens Ingredients Review = 10/10
VegeGreens Taste Review = 7/10
Greens+ Ingredients Review = 9/10
Greens+ Taste Review = 8/10
Get your hands on either product if you are serious about staying healthy, feeling great and improving the looks of your body.