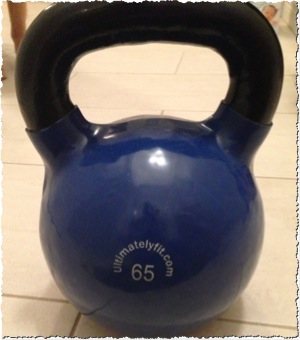 With Christmas just 12 days away I probably should have gotten this article written earlier, but I know a good % of people are still scrambling for Christmas ideas for their lists. In this article I will throw out some ideas for the person on your list who is working out – whether they are a gym rat or just a beginner at the gym.
One of the items on my Christmas list was a 65 pound kettlebell for my home workouts, and because my girlfriend couldn't carry it I got it early :P. With that I will get right into the ideas, with the first one coming from the kettlebell I had given to me.

Workout Equipment – First you can determine if the person like to workout at home or at the gym (or both). If they occasionally do home workouts you could buy them a number of different pieces of workout equipment including stability balls of different sizes, a bosu ball, medicine balls, door chin up bar, bands, kettlebells, and more. Check out RogueFitness where you can buy everything listed above. I was taking a look at their site last night and kind of wished I had a home gym and there is a ton of awesome equipment you can get shipped to your front door. Get talking to the person you are buying the gift for and see if you can find out exactly what they wish they had at home for their workouts and go ahead and see if it fits your budget.
Workout Clothes or Gear – Going to the gym 4-6 times per week requires at least a couple different gym t-shirts, tank tops, shorts, underwear, etc. Most people are using old cotton t-shirts at the gym, but the sports companies have come out with some great material that helps you stay dry and cool in warm temperatures (or dry and warm in outdoor cool temperatures). Check out a site like the Nike Store for great workout gear that almost anyone that workouts out would love for Christmas. One thing I don't recommend is buying someone workout shoes unless they specifically ask you for that and give you a size and exact shoe. Without trying on a specific shoe they won't know what is most comfortable, so stick to stuff like shirts, shorts, socks, etc.
Supplements – If you are really close with the person you want to buy something workout related for (your husband, wife, kid, brother) you could get him or her some kind of supplement. I say that you would want to be really close with them because you need to know what supplements they take or would want to try. If someone is trying to build muscle and you buy them a fat burning product that won't go to good use. If they have three protein tubs in their cupboard it probably wouldn't be good to buy them another. But if you live with them and know that they love Vitargo S2 for example and they are running low – that would be a great gift. For someone who uses supplements a lot when working out it is an awesome gift… just make sure you know what they need or want. Buy your supplements at BodyBuilding.com to save a lot of money over retail stores.
Fitness Books or Cook Books – If you visit your local book store you will find a ton of health, fitness, and workout related books. Even if they don't read books often but they love to work out they would most likely be interested in reading a book if it is related to working out. If you are buying a gift for someone who is trying to lose weight there are a lot of great cookbooks out there that are based around only healthy meals. Just make sure the person is trying to lose weight and are open to that or else you could be offending them! Also magazines make great stocking stuffers for Christmas and there are lots of quality fitness magazines for both men and women.
I hope this post helped all of those who are struggling with their Christmas shopping for a workout enthusiast. It really isn't that difficult to find stuff that we would love to get as a gift!