Like I've mentioned before sometimes I will just post random personal stuff here at WorkoutTipster.com and this blog post falls in that category. About a week ago I got myself a new BBQ for cooking up my protein, and it has been awesome. I picked out the Weber Summit E-420 BBQ and got a natural gas line installed so I wouldn't have to worry about propane anymore.
Before getting this I had been using a cheap (under $300) BBQ and although it usually did the job, it is nothing compared to this Weber that cost just North of $2,000.
It has 4 burners and about 540 sq in of primary cooking area which will give me a lot more room for BBQ'ing when company is over. The extra size doesn't mean too much when I'm grilling for just me and the girlfriend, but recently after having a few BBQs here with friends I've noticed that we were running out of grilling room. Another nice thing about this BBQ is that the steel rods are a nice thick 9mm which I've already noticed has made a difference.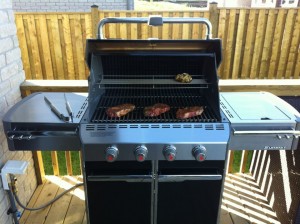 So far I've cooked up my usual Rib Grilling Steaks and Chicken Breasts on the new BBQ (as well as homemade burgers this past weekend as a cheat meal), but having this new grill has really got me thinking about trying out new stuff and I've been looking through different cookbooks.
Tonight we are going to be BBQ'ing a full chicken and will be doing the "Beer Can Chicken" which has been amazing on my old BBQ but it was hard to stop the flares up and the chicken came out somewhat burnt always.
I'm not a fan of Salmon from the oven, but I've had an amazing Salmon cooked on a Cedar Plank so I've just went out and purchased a couple Cedar Planks so I can give that a try. Fish can be great proteins so I'm hoping I can learn how to BBQ it and make it taste good.
Another thing I'll be doing more is grilling up some Veggies on the new BBQ, including grilled Asparagus which is one my favorite healthy sides with a nice big Steak.
Overall I think this is one of my favorite purchases, and will definitely help me be more creative with my meals and will help me get more of a variety of proteins into my diet!